Bil Kaleshwar Temple is a famous Indian temple. It is situated on the banks of Beas River in Nadaun- Sujanpur. Bil Kaleshwar Temple is devoted to Lord Shiva. The idol of  Lord Shiva, in the form of  Shiva linga. This temple is a attestation of great Indian architecture. The Manufacture of this temple was initiated by the 'Pandavas', whose character from the Great indian epic, the mahabharatha.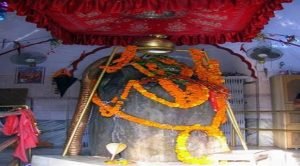 Vishva  Karma, the Hindu lord of creation also helped them in the manufacture of this shrine. But the construction of this temple was giveup by the 'Pandavas'.  Afterwards,  this construction was completed by a King of Katoch dynasty.
Bil Kaleshwar Temple is more than 400 years old. Devotees offer their  wishes to Shiva Ling, the phallic representation of Shiva. This place is also considered as sacred place. 
Myth about Bil Kaleshwar Temple:
In Satyug, when the Asuras were booned by Lord Shiva and they became very powerful and started terrorizing all living on the earth, the agonized Devtas there after went to Lord Brahma for a remedy.Lord Brahma sent them to Lord Vishnu
Lord Vishnu being helpless too, directed them to Lord Shiva for their protection. Listening to this Lord Shiva asked Mahamaya to take the roop of Mahakali and destroy the Asuras. Maa Kali took the roop and killed all the Asuras however could not cool down to normal after that and kept searching for more killings
Seeing this Lord Shiva took the roop of an Asura and fought himself with Maa. There happened a fierce battle for a very long time. The whole universe seeing this got terrorized.Lord Shiva then thought of another alternative. He fell on the floor and when MaaMahakali stepped on Him, she could see the clear roop of Lord Shiva, She immediately stepped back and cooled down realizing her mistake
With this guilt and for the penance (prayshchit) of the same, Maa kept wandering and praying Lord Shiva in the Himalayas for thousands of years. And one day next to the Vyas river, at this place, Lord Shiva gave Her darshan and relieved her of her guilt. At that time a Shiva Lingam was established at this place and it became popular as Mahakali Kaleshwar Temple
How To Reach Bil Kaleshwar Temple:
By Air
The nearest International Airport is Sri Guru Ram Das Jee International Airport, Amritsar, roughly two hour drive from Una
By Rail
It has its own Railway Station named as Una Railway Station which is connected to all the major cities of Himachal Pradesh and other cities like Rupnagar, Chandigarh, Ambala, Haridwar and Delhi
By Road
Una is 41 Kms from Hoshiarpur, 85 Kms from Jalandhar, 116 Kms from Chandigarh, 139 Kms from Mandi, 139 Kms from Pathankot, and 182 Kms from Shimla and is well connected through Himachal Pradesh State Road Transport Corporation (HPSRTC) and some private travel services