Trilokinath Temple is situated in Udaipur sub division of District Lahaul and Spiti of Himachal Pradesh . It is nearly 45 KM from Keylong , Distt Head Quarter of Lahaul and Spiti early  146 KM from Manali . Ancient name of Triloknath temple is Tunda vihar . . This is holy shrine is revered equally by Hindus and the Buddhists. Hindus consider Trilokinath Temple  deity as 'Lard Shiva'  while the Buddhists consider the deity as ' Arya Avalokiteshwar ' Tibetan language speaking people called  him as 'Garja Fagspa'.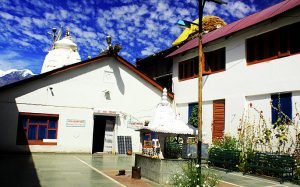 This holy  shrine is so important that is it is considered as most scarred pilgrim thirth  next only to o kailash and  Mansarover . The uniqueness of   the temple lies in the fact that it  is the only temple in the whole world where both Hindu and Buddhists  pay their reverence to the same deity . The temple is situated in the panoramic Chandra Bhaga valley to the western Himalayas .
It is highly spiritual place where one gets the  spiritual  blessing of the lord of three universes i.e. Shri Triloknath jee by visit having this Darshan and offering ones prayers
How To Reach:
The Rohtang top which is the  gateway to Lahaul valley officially open from April to November 15th i.e. for tourists  only . Triloknath temple is about 45 KM from district Head Quarter Keylong and about 146 KM from Manali. One can reach here by road in the summer season and by helicopter in the winter . Himahcal  Pradesh  Road transport  corporation HRTC runs its buses to & fro from Triloknath . Also large no of taxi are available  in Manali & Kullu  since can be hired .
Accommodation facility is available in the temple for about 125 people . At present there are no private hotel in Triloknath but few propsed to come in the coming years . Private hotel are   available in Udaipur town which is about  15 KM away .  A  big  Sarai   of accommodation of 200  people is coming up in Triloknath which is being made up Public works department (PWD) HP Govt . It  is likely  to be completed by the end of 2015
Free langer is being run by the temple committee in the summer season. Devotee can take their meal any time. Besides this small dhaba are also are also available in Triloknath . Hot water facility is available in the temple complex.
History Of Trilokinath Temple:
This temple was constructed in the 10th century. It is proved by a stone inscription which was found in the temple complex in 2002 . It is described in this stone inscription that this temple was made by  Dvanjra  Rana which are beloved  to be ancestors of present ' Rana  Thakurs  rulers of Triloknath village .  They were believed of  be  helped by King Shell Varman of Chamba who got this temple constructed in 'Shikher style'  as there are 'Laxmi Narayan'  temple complex of Chamba . King  Shell Varman  was the founder of Chamba  town .
This temple was approximately constructed in the end of  9th   century  and in the starting of  10th century . Major role was also played by Rajgrana of Chamba Mahayogi  Sidh Charpati Dar ( Charpath Nath ) .  He  had unlimited devotion to Bodhisattva Arya Avalokiteshwar and he had composed 25 shlokas in this glory  which are called " Avalokiteshwar  strotan Chedem ".
This is a single temple of Lahaul valley  in Shiker Style . Deity of Triloknath Ji  is six hundred and lalitasan  Lord Buddha is sitting on head of Triloknath . The deity is made  up of marble . There is also local story after the manifestation of this deity . It was said that there was a lake on the present Hinsa Nalla . Seven persons of milky cower use to come out of this lake & drink the milk of grazing cows . One day one of them was caught by Tundu Cowherd boy and was taken to village on his village on his back . There the caught person converted into a marble deity . This deity was established in the temple . This lake is called as  'Ome –cho milky ocean ) in Tibetan stories .
Other local story described that temple was completed in one night by ' Mah Danav'   The present Hinsa Nalla is  unique as its water is still milky white and is never  changes its color even in heaviest rainfall .
Worship is performed in  this temple according to Buddhist traditions . It is a practice since time immemorial .
Local Festivals Of Trilokinath Temple:
Local festivals are celebrated in the Trilokinath Temple through out the year :
Abhishekem of deity;– This is carried out by the local Thakurs. It is carried  out annually  on the following dates –
(a)  Maker Sakranti- The Abhishekem of the d deity is done with milk . It is locally called uden/utna.
(b) Halda – It is usually celebrated in the starting week on February. This year it is on 3rd February.
(c)  Fagli – It  is usually celebrated after Mahashivratri . This year it is on 19th February. It is sad that fagli of Lahaul is equivalent to  diwali as the  good news of  Lord Sri Ram reaching Ayodhya after killings of exile in forest reached Lahaul on this date by a crow  Treta Yuga .
(d) Baishaki – It is on 14 April this Year .
2.    Yor –It is usually celebrated in td moth of March. It is celebrated by local Thakurs  with other villagers in the village of Triloknath
3.  Bhyarzee – This festival is celebrated after a pan of 2 years . It is usually celebrated in the month of July . In this festival the devotee goes to the starting point of the Saptdhara.
4.    Pori Mela – this is a yearly event & a big  District  level fair  is orginsed in the Triloknath temple and in the village . The local Thakurs  take the horse  of Triloknath Jee to the starting point of Saptdhara and it  is believe that they bring Triloknath Jee back to the  temple on this horse . Devotee took their  holy bath in the  Saptdhara . After  Pauri Mela group  of  devotee to Manimehesh lake  in Bharmour of Chamba through the Kugti Pass and  some of them return back after taking dip in the holy  lake through  Kali Chho Pass .