Tara Devi Temple is located in Shimla. Tara Devi is a very famous tourist attraction of this place. Situated at a distance of around 11 kilometers from Shimla, this famous temple can be visited while traveling on the Kalka – Shimla National Highway.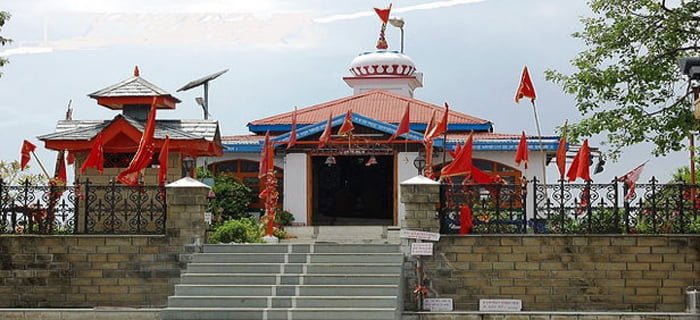 The Tara Devi Temple is situated at the top of a hill in Simla and the lush green environs surrounding it give the temple a very peaceful and tranquil atmosphere. One must visit this temple to check out the breath taking views of the countryside. The backdrop of the lofty Himalayas and the clean and fresh air works wonders and makes your vacation worthwhile.
Tara Devi Temple Story:
The origin of this temple can be traced back to around 250 years. It is said Goddess Tara was brought all the way from West Bengal to Himachal Pradesh. A King from the Sen dynasty visited this place after some years. He had brought along a small gold locket in which his an idol of his deity was encased in gold. He always wore this locket in his upper arm. The idol remained encased in that locket for many generations to come. One fine day, Raja Bhupendra Sen (of the 96th generation) had an unusual incident. While hunting in a dense forest, he had a vision of Goddess Tara along with Hanuman, who desired that she should be available for the public to pray and seek blessings.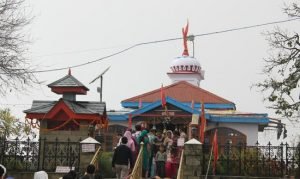 Immediately, the Maharaja donated a big piece of land to build a temple dedicated to Goddess Tara. Thus, a temple was built and a wooden idol of the Goddess was installed for people to worship. After some more generations, Raja Balbir Sen had a vision in which the Goddess had wished that she be installed at the top of a hill known as Tarav Parvat. The Maharaja got a temple built at the top of the hill and got a beautiful idol made out of "Ashtadhatu", a rare combination of eight elements. He got it installed in a grand fashion by taking out a huge procession and carrying the idol on the top of an elephant named Shankar. The temple stands in its entire splendor even today on this hilltop.