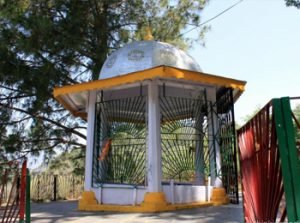 Sui Mata Temple stands as an honour to the sacrifice of Queen Sui- the wife of King Sahil Varman. The temple is situated in the Saho village of Chamba district and is a paradigm of sacrifice. It's decorated with beautiful painting that depicts the life of Sui. A fair is organized every year at this place which begins on 15th March and continues till the first of April. Married women and girls flock to this place with offerings to pay respect to the great queen. Hence, a visit to this holy place will offer you great insight into the numerous traditions and culture of Chamba.
                                                                                    History Sui Mata Temple:  
There is a hidden story behind the foundation of the Sui Mata Temple. Long ago, there was a heavy rainfall in the region and due to this issue, King Sahil Varman tried various ways to impress gods and so he started giving offerings to the gods. After suffering from great pain and stress, he left his throne to fulfil the requirement but there was no water for years. Then, he consulted Brahmins and religious advisors who advised the king would have to sacrifice his son or wife to bring water in the region. Though, it was very difficult for him to do so but with a heavy heart the king decided to sacrifice his son. But her wife could not see his son giving sacrifice and so she sacrificed herself instead of his son. After she died, her body and her close maidens were buried around the premises of temple. Very soon, water began to flow in the village and from that day the scarcity of water is never seen in the region.
                                                                                                                                    The Sui Mata Temple is constructed on Shah Madar Hill and has three parts. The first one is the main temple steps which were made by Rani Sarda, the wife of the king Raja Jit Singh who leads to the Sarota stream. Second is a passage and third is the memorial of Queen Sui. However, the shrine has been built as a temple and people make offerings in this temple.