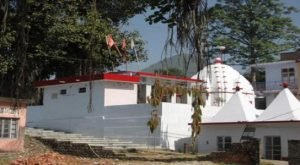 Shri Baba Nahar Singh Temple is a famous Hindu temple. Shri Baba Nahar Singh Temple is addressed at Dholra. Shri Baba Temple is famous at Bilaspur and also it is famous in all over Himachal Pradesh. It is the beautiful temple of Bilaspur, which located on the bank of the 'Gobind Sagar Lake'. Shri Baba Nagar Singh is beleived an incarnation of God. He is also known as 'Bajia', 'Peepal Wala',and 'Dalian Wala'.Baba ji is known as apparent god. Shri Bajia is the another name of Baba Nahar Singh. Nahar Singh was the guarantor god of Naggar. This temple is also called the Dholra Temple.
Shri Baba Nahar Singh History
According to the legend,When King Deep Chand of Bilaspur married a queen of Kullu, who revered the Baba Nahar Singh. After sometime,the queen fell unwell and continued to suffer from spells of  senselessness. At the time of going 'Barat' the 'Palki' of the Queen is not pick up by the people. The reason is that,  Baba Nahar  wants to go with the queen. Thus, Raja Deep Chand built this Temple at Dholra and placed his 'Kharaun' (Wooden Slipper) in the temple, as his symbol.So the temple is called Dholra temple.
Shri Baba Nahar fullfills the ambtions of devotees. Fairs are organized here every Tuesday, in the Hindu month of Jeth (May – June), in the honor of the deity.