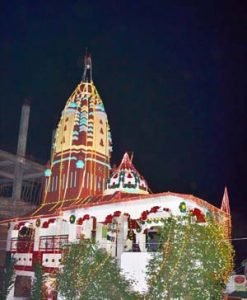 The Shoolini Temple is dedicated to Shoolini Mata-an incarnation of Goddess Durga. The shrine is one of the prime attractions of Solan. It is also believed that the town of Solon was named after Shoolini Mata, who is the presiding deity of the temple. As per legends, the temple was once the abode of Shoolini Mata.
The shrine attracts huge crowd during festival days, especially during the Shoolini fair. The temple looks beautiful in the night when it is completely illuminated and is crowded on holidays and festivals. Other highlights of the fair are activities like dancing, singing and wrestling .The fair attracts traders, sweet sellers, general merchants and shopkeepers from the neighbouring town.
Throughout the year, thousands of tourists and devotees visit this shrine to offer prayers to the goddess. Maximum visitors come here during the three-day fair, which is held in the last week of June every year. During the fair, the temple is exquisitely decorated, and a grand pooja is organised. Other highlights of the fair are dancing, singing and wrestling.
Best time to visit Shoolini Mata Temple :
January to December : Open all days 07:00am to 06:00pm: