Shimla is also known as Simla, is the capital city of the Indian state of Himachal Pradesh, located in northern India. It is bounded by Mandi and Kullu in the north, Kinnaur in the east, the state of Uttarakhand in the south-east, and Solan and Sirmaur to the south. The elevation of the city ranges from 300 to 2200 metres.Shimla is well known as a hub for India's tourism sector. It is among the top 10 preferred entrepreneurial locations in India.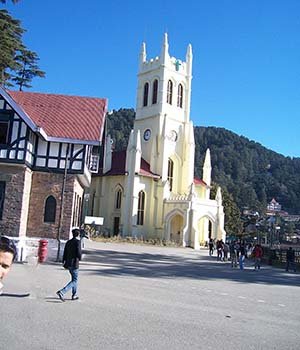 In 1864, It was declared as the summer capital of British India, succeeding Murree, northeast of Rawalpindi. After independence, the city became the capital of Punjab and was later named the capital of Himachal Pradesh. its came into existence from 1st Sept,1972 on the reorganisation of the districts of the state. After the reorganisation, the erstwhile. Its name has been derived from the goddess Shyamala Devi, an incarnation of the Hindu goddess Kali. As of 2011 Shimla comprises 19 erstwhile hill states mainly Balson, Bushahr, Bhaji and Koti, Darkoti, Tharoch & Dhadi, Kumharsain, Khaneti & Delath, Dhami, Jubbal, Keothal, Madhan, Rawingarh, Ratesh, and Sangri.
As a large and growing city, Shimla is home to many well-recognized colleges and research institutions in India. The city has a large number of temples and palaces is also well noted for its buildings styled in Tudorbethan and neo-Gothic architecture dating from the colonial era.
Owing to its scenic terrain, Shimla is home to the legendary mountain biking race MTB Himalaya. The event was started in 2005 and is now regarded as the biggest event in South East Asia.
How to reach Shimla :
Reach By Air
Located at a distance of 22 km away from the Shimla, the Jubbarhatti airport is well connected to various other cities by air. The other nearby airports such as Chandigarh Airport and Delhi airport can be accessed easily.
Reach By Road
Shimla is well connected with the cities like Chandigarh, Delhi, Dehradun and Kalka though roadways. You can hire taxis as well as state buses to reach the hill station from these cities. There are even regular bus services from the nearby places to Shimla such as Kullu (235 km), Manali (280 km), Delhi (370 km) and Ambala (154 km). From the capital of India, one can even take luxury buses and cabs which will provide a comfortable journey.
Distance Charts:
Location
Distance
Time
From Manali
252 KM
4 hrs.
From Jalandhar
229 KM
4 hrs.
From Kullu
208 KM
3 hrs.
From Ludhiana
206 KM
3 hrs.
From Ambala
158 KM
2 hrs.
From Chandigarh
132 KM
2 hrs.
From New Delhi
369 KM
5 hrs.
From Amritsar
302 KM
5 hrs.
From Dharamshala
246 KM
4 hrs.
From Dehradun
224 KM
4 hrs.
Reach By Train:
The nearest station is Kalka which connects the city with different parts of the country by rail line. There are quite a good number of trains from the cities like Delhi and Calcutta. From Kalka station, one can take the pleasure of toy train as well as can hire private cabs to explore the beauty of this city.
Also Check