Prashar Temple is One of the more locally famous temples in the region, the Prashar Temple is dedicated to Rishi Parashar.
Prashar Temple History:
Prashar was the grandson of another famous sage Rishi Vashishtha. Locally known as Deu Padasar, it is said Parashar came to this spot and struck his axe, leading to water springing out of the ground. This water spring later filled the bowl like depression in the ridge to form what is currently known as Parashar Lake. While not documented anywhere, there have been failed attempts to ascertain the depth of the lake leading to a silent legend that the lake is perhaps bottomless.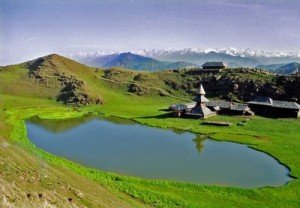 There has been a temple at this spot for a very long time. The construction on the first temple at the place, according to folklore, was started by a 6 month old child out of a Deodar tree and it took 18 years to complete the construction. In more recent history, references to this temple are found as early as the 14thcentury, constructed by the then king of Mandi, Ban Sen. This 14thcentury pagoda style wood temple still stands at the spot with elaborate carvings of serpents and animals. Made out of Deodar wood, it is architecturally considered to be a close relative of the Hadimba temple in Manali. Around 10 years ago, Parashar also found its way into a BBC documentary, which was critically acclaimed and awarded.
Currently, Parashar is a major religious and tourist destination. 13Th – 15th June every year, the Parashar temple hosts a fair which is attended by all the major devtas (god) in the region. When I say attended by devtas, I mean idols of devtas are carried by a select few devotees in a sedan, all the way on foot. Amongst others, the fair is attended by other Parashar temples in Himachal and Rishi Shukdev, who was the grandson of Rishi Parashar. All the devtas are hosted at the temple complex. A sea of humanity (disclaimer: by Himachal standards) descends on the place.
With the relatively recent introduction of fish into the lake and the increased human activity in and around the place, edges of the lake have slowly started turning into a bog and the lake has been fenced off. The water is no longer fit for consumption and has changed to a greenish colour from the earlier crystal clear blue. The temple, which stands right next to the lake could also be threatened if the bog extends its territory. As with all things touched by Homo Sapiens, Parashar lake and temple are 'endangered', so to say or could be soon endangered if not taken care of