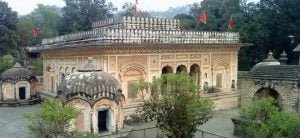 Narvadeshwar Temple is one of the famous Hindu temple. Narvadeshwar Temple is located in the Tira  Sujanpur . The temple has been initiation in the open ground.The Queen of Maharaja Sansar Chand has been built the Narvadeswar Temple. It is constructed by the King which are Bansiwala ( for Lord Krishna) on one side of the ground, and Shri Naravdeshwar on the other side towards the Beas River.Designers be a members of King's court have drawn graphic and attractive images concern to Bhagwat Purana, Shri Ramayana, Shri Mahabharta.This temple is two hundred years old. This temple also contains the images of wild animals and birds. Artists belonging to the court of the Raja had delineated beautiful murals on the temple walls, depicting scenes from the Ramayana, Mahabharata and Bhagwat Gita and also wild animals and birds. Narvadeshwar Temple was constructed on an open ground. There are small temples that have been built around the primary temple, comprising Sun, Durga, Ganesha, Laxmi-Narayan and Mahisashur Mardini. Narvdeshwar Temple Created in 'Bhitti Style'.
Narvadeshwar Temple famous  For:
The walls of Temple are embellished with exquisite mural paintings which are the characteristic feature of this holy place. The miniature paintings that adorn the interior are built in Kangra style.
Temple Tank and sacred tree:
Thirtham Beas River