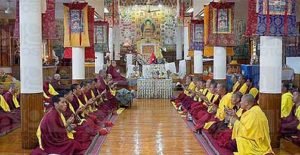 Namgaya Buddhist Temple called 'Lagging', at Namgaya is dedicated to 'Lagan' and is the centre of Durgapa sect.
The inhabitants of the place were known as 'Niama' or 'Jads' who are currently called 'Kanuras' and speaka dialect akin tob. Apart from the Buddhist temple, the local people also venerate four local deities viz. 'Chola', 'Bushahru', 'Dabla' and 'Kuldeva Narayana'.
Namgaya Buddhist Temple:
Namgayal is any Tibetan Buddhist institute that is associated with the Dalai Lama and his activities. The monastery was first founded in the 16th century by the 3rd Dalai Lama, Sonam Gyatso with an intention of effectively carrying out the ritual duties of the Dalai Lama in his religious role. At that point of time, the monastery was located in the Potala Palace of Tibet and had around 175 Namgyal monks to perform the religious duties.
However, the Chinese invasion of the1959 forced the 14th Dalai Lama to flee to India along with thousands Tibetans (among them 55 monks of the Namgyal Monastery). Here, he was granted asylum by the government of India in Mc Leodganj, upper Dharamshala in the north Indian state of Himachal Pradesh. Mc Leodganj now became the new centre for the Namgyal Monastery which stood close to the Dalai Lama's private residence.
A unique aspect of this monastery is its diversity of practice. It carries out prayers and rituals of all the major schools of Tibetan Buddhism. It is also an important centre of learning for Buddhist monks. Any monk gains an admission in this monastery only after clearing series of challenging entrance examinations. Thereafter, they need to undergo the traditional training. Also, since the monks frequently accompany the Dalai Lama to foreign locales, they are also taught the essentials of sutra and tantra.
In the year 1992, the !4th Dalai Lama chose six monks who travelled with him all the way to Ithaca, New York to set up a branch of the monastery there. This monastery has helped them to propogate their beliefs and teachings in the North America more conveniently.