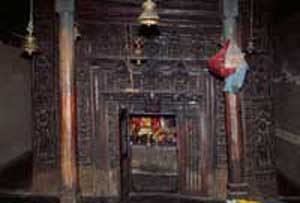 Mrikula Maa Temple is a famous Hindu temple. Temple is also called as Markula Devi Temple. Temple is dedicated to goddess Kali. In the 11th century it was constructed. this is the famous wooden temple in Himachal Pradesh. The three headed lord Vishnu are there. It is believed that the temple was constructed from a block of wood by the Pandavas during the time of Mahabharata.
The roofing consists of nine panels.The nine panels has different size and shape.Eight of these border the big centre piece.The centre piece is in the "Lantern style". Four figural panels on the four basic directions depict Gandharvas busy with their mates and holding objects. Lord Shiva on both sides is flanked by his alter egos, the Bhairavas. The next panel diverge from the Hindu pantheon or myth for it represents the 'Assault of Mara'. In the centre Buddha is shown sitting on the "Vajrasana" in Bhumisparshasana calling the Earth goddess to witness his victory over the god of desire and death.
The wall panels depict scenes from the Mahabharata,Ramayana,Sunderkand, Yuddhakand,  grant of ground by Raja Bali to Vaaman,three headed incarnation of Lord Vishnu, Churning of the ocean.
History Of Mrikula Maa Temple:
Earlier the nearby village was called Margul from which the temple derived its name as Mrikula. Speaking about the importance of the temple, the priest said, "it is believed that Goddess Kali killed the demons Mahishasur and Raktbeej at this place. Because of the association, this temple is no less important than a Shaktipeeth."
About the rituals associated with the temple he said that there was an idol made of an eight alloy metal (ashtadhatu) that is worshiped as the eight armed goddess Kali Mata. During summers many come to seed the goddesses blessings. Besides there is Khappar (a bowl shaped vessel of Kali Mata believed to be used by the goddess to rid the world of demons) kept in a hidden place inside the temple, which the priest worships once in a year, during local festival Fagli.
"In the year 1972, a gang of temple robbers attempted to steal the idol and sell it in the international market but due to the intervention of divine power, the thieves could not go beyond Manali and all of them had to suffer a lot for the sacrilege committed," the priest recalled.