McLeodganj (also spelt McLeod Ganj or Mcleodganj) is a suburb of Dharamshala in Kangra district of Himachal Pradesh, India. It has an average elevation of 2,082 metres (6,831 feet).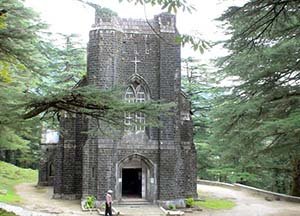 Situated on the Dhauladhar Range, whose highest peak, "Hanuman Ka Tibba", at about 5,639 metres (18,500 feet), lies just behind it, it is known as "Little Lhasa" or "Dhasa" (a short form of Dharamshala used mainly by Tibetans) because of its large population of Tibetans. The Tibetan government-in-exile is headquartered in McLeodGanj.
A number of residential buildings, restaurants, antique and curio shops, together with famous Tibetan institutions have lent importance to McLeodGanj. The Budha temple is situated opposite to the present abode of His Holiness, the Dalai Lama and is worth a visit. The Tibetan Institute of performing Arts(TIPA) is 1km. walk from McLeodGanj and preserves a number of musical dance and theatrical traditions of Tibet. It holds an annual 10-day folk opera commencing on the second Saturday of April. There is also a Tibetan handicraft centre situated at McLeod Ganj and a Sunday market is organized at about 10 minutes walk from here.
Getting to McLeodganj(McLeod Ganj)
By Air You can fly from Delhi to Gaggal, a town near to McLeod Ganj. There are two daily flights — Air India and SpiceJet By Train There are more than ten trains running daily from Delhi to Pathankot and Chakki Bank, which is a smaller station near Pathankot.