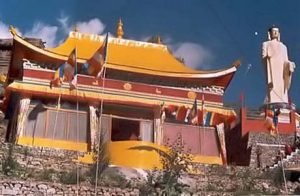 Mahabodhi Buddhist Temple is very popular in Kinnaur, the monastery in Sangla Valley is situated near Reckong Peo in Brelengi. It is the most sacred site in Buddhism and visited regularly by both Buddhist and Hindu pilgrims (many Hindus honor the Buddha as an incarnation of Vishnu). The monastery is also known as Brelengi Gompa. The monastery was built on the occasion of Kalachakra Festival in 1992 by the Mahabodhi Society. The wooden walls and roof of this monastery are intricately designed.
The date of Gautama Buddha's enlightenment is not known for certain — even the dates of his birth and death are difficult to pin down.
Mahabodhi Buddhist Temple, Kinnaur, Himachal Pradesh– Blessed by his holiness, the Dalai Lama, Mahabodhi Kinnaur Buddhist Temple is situated amidst luxurious environs.