Maa Hateshwari Devi  is located at Drovada Dhar Sunder Nagar Mandi distric Himachal Pradesh is very well known temple in Mandi District and peoples have strong faith in Godess Mata Hateshwari Devi.
Maa Hateshwari Devi architecture is a little different than the other temples of Sunder Nagar, but similar to Sheetla Devi Temple. After the concrete plinth, heights were mostly covered with glass, but I don't know which one was built first.
Maa Hateshwari Devi Temple: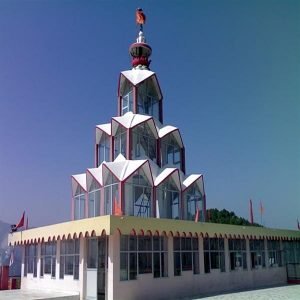 The temple building has used the concept of green buildings, the walls were provided with glass openings in all the 4 faces, thus reducing the cost of construction and providing free day light.
There was a solar panel at entrance of the temple, thus increasing the feel good factor. This free meal Bhandara is available on every Sunday and Tuesday.