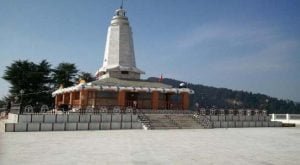 Maa Bhangayani is God sister of Shirgul Mahadev, Maa bhangayani is said to be the most powerful deity worshipped in Sirmour, Himachal Pradesh. This temple has a history that connects Maa Bhangayani to Chureshwar Mahadev (Churdhar). A person visiting Maa Bhangayani Temple in Haripurdhar can get a clear and open view of Chureshwar Temple from here.
History relates how, with the help of blessings from Mata Bangayani, Shirguls Mahadev was freed from a Mughal prison. Tales of bravery of Shirgul's Mahadev are recounted by people in Delhi where he was imprisoned by a Mughal emperor. This incident has been enlisted in golden chapters and since then Maa bangyani has been celebrated as god sister of Shirgul Mahadev.
Maa Bhangayani Temple Location & Ease Of Access:
Maa Bhangayani Temple is located at the foothills of lesser Himalayas or Shivalik ranges at Haripurdhar. Haripurdhar makes a compact border with Sirmour district of Himachal Pradesh and is one of the legacies of "lands of gods". The temple lies at an altitude of 8000 feet above sea level.
Located at the border of Sirmour district, this temple is around 140 km away from Shimla via Solan and Rajgarh. The route via Shimla is best avoided during rains because the passage becomes narrow and is affected by reoccurring landslides. The alternate route is to get here via Chaupal to Shimla. This is a 12 hours journey.
This temple is run by Maa Bhangayni Seva Samiti, which works all round the year to provide the best amenities to tourists on their visit to the temple. Always abuzz with devotees coming from different parts of the world, the organization ensures sufficient facility for comfortable accommodation of visitors.
The samiti has been successful in its efforts of providing a comfortable stay to visitors because it utilizes vacant stretches of land around the temple for construction of a 'yatri Nivas'. These apparent 'nivas' consist of furnished rooms, a grand hall, library, dormitories, and green washrooms.
Best Time to visit Maa Bhangayani Temple  :
Located at the foothills of lesser Himalayas, Maa Bhangayani Temple, Haripurdhar, remains open for visitors all round year.