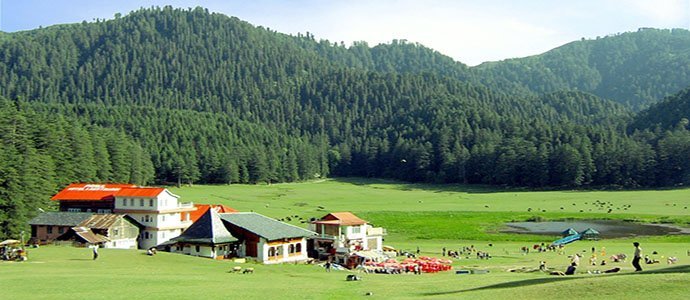 Khajjiar (खज्जियार) is a hill station in Chamba district, Himachal Pradesh, India, located approximately 24 km from Dalhousie. Khajjiar sits on a small plateau with a small stream-fed lake in the middle that has been covered over with weeds. The hill station is surrounded by green meadows and dense forests. It is about 6,500 feet (2,000 m) above sea level in the foothills of the Dhauladhar ranges of the Western Himalayas and snowy peaks can be seen in the distance. It is part of the Kalatop Khajjiar Sanctuary.
Khajjiar can be reached from Dalhousie, the nearest major town and hill station, by bus in an hour or so. It has a rare combination of three ecosystems: lake, pasture and forest, all in one place.
Khajjiar Mini Switzerland
On 7 July 1992, Mr. Willy T. Blazer, Vice Counselor and Head of Chancery of Switzerland in India brought Khajjiar on the world tourism map by christening it "Mini Switzerland". He also put a sign board of a yellow Swiss hiking footpath showing Khajjiar's distance from the Swiss capital Berne-6194 km. Khajjiar is among the 160 locations in the world that bear topographical resemblance with Switzerland. The counselor also took from Khajjiar a stone which will form part of a stone collage around the Swiss Parliament to remind the visitors of Khajjiar as a Mini Switzerland of India.
Places of interest
The best entertainment in Khajjiar is to walk around the lake or to go for long walks in the thick pine forests. Children enjoy this place because of the freedom of movement and the sloped terrain which permits them to roll down to the lake without getting hurt.
Another attraction is horse riding.
Dauladhar mountains:Dense deodars, pines and lush green meadows are characteristic of Khajjiar. Since Khajjiar is situated at the base of the Dauladhar mountains, the tourists here can get panoramic views of the mountains.
Khajjiar Lake:
Khajjiar Lake is a small lake, surrounded by saucer-shaped lush green meadow and a floating island. The dense growth of weed called vacha has made its earth spongy. Now the banks stand covered by a thick layer of earth, formed by the years of dust settling down on the weeds.
Khajjinag Temple:
A little away from the lake is the temple of Khajji Nag belonging to the 12th century AD. In the mandapa of the temple one can see the images of the Pandavas and the defeated Kaurvas hanging from the roof of the circumambulatory path. The sanctum of the temple has been beautifully carved from wood. This temple is dedicated to snake (Naga) worship and there are some snake idols