Ice skating normally begins in early December and carries on to February. Clear skies and lowIce Skating, Shimla temperatures provide series of uninterrupted sessions. There are two sessions every day, in the morning and in the evening.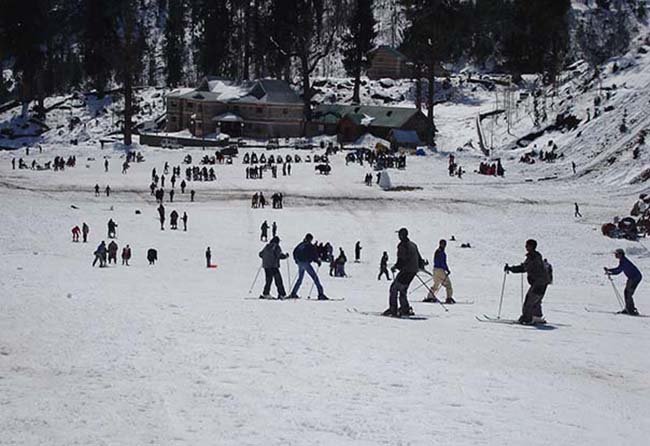 The ice skating season usually begins in the start of December and goes on till the end of February. The cold weather and clear skies make sure that people have undisturbed sessions of ice-skating. The sessions take place every day, twice a day in morning and evening. The rink also provides membership on short and long term basis. Basic equipments like skates, cap, kneepads etc. are available at the rink.
Shimla – the state capital is the best destination to try out ice skating in Himachal Pradesh, and in fact in entire India. Every year a winter sports festival is held in Shimla in the month of December, and ice-skating is one of the major attractions of this festival.
The Shimla ice-skating rink has the largest open-air area with naturally frozen ice in this part of the world. Known to be Asia's oldest open-air rink – the arena offers excellent opportunities for sports lovers to indulge in Ice-skating in Himachal Pradesh.
Ice skating is a sport similar to skiing, the only difference being that in skating instead of swooshing down snow-covered slopes, you glide along a wide skating arena wearing ice-skates. You can skate with a partner or do it alone. But ice-skating is a sport that requires much better balancing prowess than required in ordinary skating.
Ice Skating in Narkanda
Ice skating can also be done in Narkanda it is 60 Km away from Shimla. It a good Finest Place for ice skating. Many championship are also organized here in winter time by Tourism department to boost skating craze in tourist.
Ice Skating in Manali
At Manali (Kullu), the Directorate of Mountaineering and Allied Sports offers a variety of courses and facilities for skiing are possible in the Solang area near Manali. There are also some companies in the private sector that offer ski courses and allied facilities.
Ice Skating in Rohtang Pass
Skating activities are also done in Rohtang pass. You can reach there from manali, It will be 2 hour journey from there. best time to their will be April- to june. because its a high altitude zone in the Himachal.