Dalhousie (2036 m) is a hill station full of colonial charm that holds lingering echoes of the Raj. Spread out over the five hills (Kathlog, Potreys, Tehra, Bakrota and Balun) the town is named after the 19th century British Governer General Lord Dalhousie. It was popular with the British Army personnel in 1860's. The town's varying altitude shades it with a variety of vegetation that includes stately grooves of pines, deodars, oaks and flowering rhododendrowns. Rich in colonial architecture, the town preserves some beautiful churches. St. John church is the oldest one built in 1863, St. Francis was built in 1894, St. Andrew in 1903 and St. Patric in 1909.
Dalhousie is built on and around five hills. Located on the western edge of the Dhauladhar mountain range of the Himalayas, it is surrounded by the beautiful scenery of snow-capped peaks. Dalhousie is situated at 6000-9000 feet above sea level.
Attractions of Dalhosie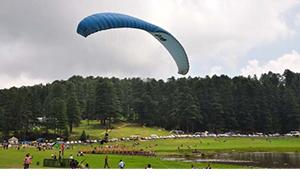 Dalhousie has many places to visit. A favorite spot for tourists is the area near Alla. It is a potato field and it offers mesmerizing scenic landscape. Another popular spot is the area of Karelanu. It is famous for its precious water which healed a great leader, Subhas Chandra Bose. He was suffering from tuberculosis and he regularly drank the water from the natural spring in Karelanu and was healed. Some of the major tourist attractions of the town are:
Subash Baoli: Netaji Subhash Chandra Bose spent a large portion of 1937 contemplating here. A nice secluded place.
Panjpulla: It means five bridges. It is a picturesque spot with water flowing under the five small bridges. A samadhi of Sardar Ajit Singh, uncle of Bhagat Singh, adds to its importance. A small fresh water spring Satdhara is close by.
Bakrota hills: Visit for a brisk walk round the hills and have a view of snow clad peaks. It is 5 km from Dalhousie.
Kalatope: It is a picnic spot and a wild life sanctury, 10 km from Dalhousie and offers a fine view of the countryside.
Bara Pathar: It is 4 km from Dalhousie enroute Kalatope. In village Ahla here, there is atemple of Bhulwani Mata.
Dainkund: It is 10 km from Dalhousie. On a clear day this tall peak (2745 m) affords a birds eye-view of the hills, verdant valleys and the Beas, Ravi and Chenab rivers threading their silvery passage down to the plains.
How To Reach Dalhousie :
Access by Air : Road Distance or driving distance from Gaggal Airport to Dalhousie is 106 kms.
Access by Rail : Road Distance or driving distance from Dalhousie to Pathankot Railway Station is 79 kms.
Access by Road : Almost each and every part of the state is linked by roads. The Himachal Road Transport Corporation is running its buses covering the whole state. There is huge network of HRTC to cater the needs of the people..
Distances : Shimla 339 km., Mandi 240 km., Manali 347 km., Kangra 128 km., Delhi 558 km., Jammu 194 km., Amritsar 199 km., and Haridwar 517 km., Manimahesh Lake 63 km., Bharmaur 103 km.,