The Chintpurni Temple as a Shakti Peeth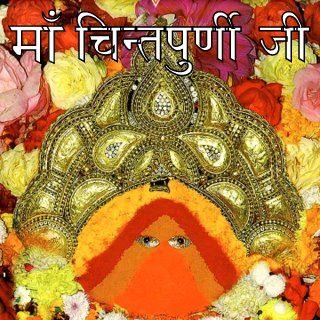 The Chinna Mastika Devi is a divine embodiment of self-sacrifice and there by the Chintpurni shri is considered as a Shakti Peetha.The mythology of Daksha yaga and Sati's self immolation is the mythology liked to the Shakti Peethas. Shakti Peethas are holy shrines of Shakti associated with a mythology that says about the falling of body parts of the corpse of Sati Devi, when Lord Shiva carried it and wandered in sorrow. There are 51 Shakti Peeth associated with the 51 alphabets in Sanskrit. It is believed that Sati Devi's feet fell here.
About the Chintpurni Temple
The temple dedicated to Mata Chintpurni Devi is located in District Una of Himachal Pradesh. Mata Chintpurni Devi is also known as Mata Shri Chhinnamastika Devi.
Devotees have been visiting this Shaktipeeth for centuries to pray at the lotus feet of Mata Shri Chhinnamastika Devi
They bring with them their worldly concerns and seek blessings from the Devi.
It is believed that if you ask something from the Devi with a true heart, your wish will be granted.
Apart from the holy shrine, the place is full of picturesque surroundings. Some very nice places for sight seeing, indoor and out door activities are situated in and around Chintpurni. Chintpurni is very well connected through roads and with good number of hotels and dharamsalas erceted in and around chintpurni, accommodation is not a problem at all. You can come here for religious visit, on a holiday or for both, you would enjoy your time there and should return with everlasting memories.
How to Reach Chintpurni Temple:
Flights
The nearest commercial airport is Chandigarh, which about 175 Kms from Mata Chintpurni. Chandigarh Airport is linked with Delhi, Mumbai, Bangalore and Kolkata.
Trains
The Nearest Railway Station is Una which 55kms from Mata Chintpurni temple.
Bus
The Nearest Bust stand is BHARWAIN which is 7 kms from temple.
A/c Deluxe buses to New Delhi/Chandigarh to Dhramshala, Baijnath stops at Bharwain, which is about 7 km from the temple.