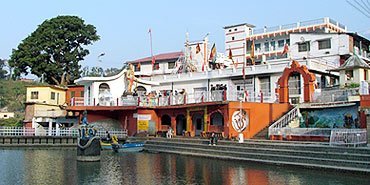 The holy temple of Mata Chamunda ji.Chamunda Devi Temple is a renowned holy shrine of the Hindus. Located in Kangra district of Himachal Pradesh, Chamunda Devi Mandir is at a distance of 10 kms from Palampur, 24 km from Kangra and 15 km from Dharamshala on the banks of Banganga (Baner) River. This ancient temple dates back to the 16th century. The temple is dedicated to Chamunda Devi, who is a form of Durga / Shakti. Chamunda Devi Mandir is believed to be the abode of 'Shiva and Shakti'.
 At the back of the temple is a cave-like scoop where a stone "Lingam" under a boulder represents Nandikeshwar (Shiva). The temple complex is an enchanting spot with glorious view of Dhauladhar, the Baner Khad and Dadh. A vast running water pool houses the statues of Lord Shiva and Saraswati. A trek of about 16 km up in the Dhauladhar ranges is the ancient temple of Aadi Himani Chamunda.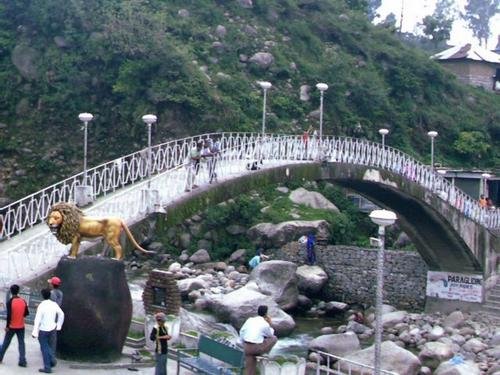 Due to this reason, it is also known as 'Chamunda Nandikeshwar Dham'. The famous Chamunda Nandikeshwar Dham is an abode of Shiva Shakti since the saga of Puranas. According to a legend, the Goddess Chamunda was enshrined as chief Goddess with the title of Rudra in the battle between demon Jalandhra and Lord Shiva which made this place famous as "Rudra Chamunda". Another legend has it that "Savarni Manamantra" battle between the gods and demons, Chamunda emerged as Chandika from an eyebrow of Goddess "Kaushiki" and was assigned the task of eliminating the demons "Chand" and "Mund". Chandika fought a fierce battle with these two demons and at last killed them. Goddess Chandika took the slain heads of the two demons "Chand" and "Mund" to the Goddess "Kaushiki" who being immensely pleased, blessed Chandika and bestowed upon her the title of "Chamunda," the name which is famous all around the world.