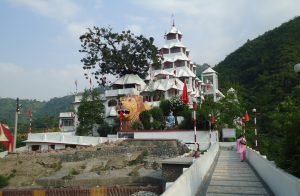 Bhima Kali Temple, situated on the banks of the Beas River in Mandi Distric of Himachal Pradesh. Bhima Kali Temple is devoted to Goddess Bhima Kali. Goddess Bhima Kali is considered to be the family deity of the erstwhile Bushahar Rulers of Mandi. Kali Mata is the aspect of Durga Mata and is so widely worshiped in north eastern parts of India. There is a huge museum inside the temple that has various statues and images of Hindu Gods and Goddesses. It is regarded as the site where Lord Krishna fought against demon Banasura.
Architecture of the temple is its sole attraction. There is a rich amalgamation of different sects-Hinduism and Buddhism in its building structure. Emerged out as the marvellous structure, Bhimakali Temple is adorned of wooden carvings bringing near to the people for the natural essence. Each and every carving on the walls of the temple depicts about the story of Goddess Bhima Kali. It is a mandatory practice for the tourist to visit the temple as it is considered as sacred. The Kali Puja is celebrated here with great zeal and enthusiasm. Also, the festival Udyapan Jag is in the row to celebrate just the once within 100 years.
How to Reach Bhima Kali Temple Mandi
Bhima kali temple is near to main Mandi Town or Mandi Bus stand and is within 1 km area from bus stand. Autos are easily available from bus stand and from town.
If you want to reach by RAIL? The nearest railway stations for Mandi District are Joginder Nagar and Shimla, Chandigarh and Kalka which are connected by regular bus services.