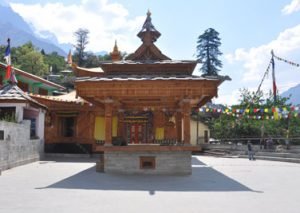 Bering Nag Temple of Sangla Valley District Kinnaur Himachal Pradesh has grabbed the attention of thousands of devotees from around the country. It is also a prime attraction of Sangla Valley that welcomes an increased tourist population in the months of August and September. This beautiful temple is dedicated to Lord Jagas, also known as Lord Shiva, whom the local people worship for the wellbeing of the village and its inhabitant. The tourists never miss visiting this exquisite temple destination, which is only a few kilometers away from Sangla. One can easily visit Sangla through a car or bus and then come to Bering Nag Temple, by following a simple trek of a few kilometers. Its most popular feature is the Fulaich Fair, held here every year between the months of August and September.
Sangla rests at a distance of around 214km away from Shimla, which can be reached by road. The road from Shimla to Sangla are as beautiful as the places themselves are. On arrival to this quaint mildly isolated hill station, you will go speechless with its bestowed natural beauty and the calmness of the region. Then a sudden escape to its very own Bering Nag Temple will adorn you with peace and relaxation. The sight of the Lord, calmness of the place and thousands of illuminated lamps take you right to a world of devotion and spirituality. Take few kilometres to reach the holy landmark.
 important & interesting facts related to the Bering Nag Temple:
The Fulaich Fair of the temple held in the months of September and October draws maximum population.
The temple is a good option for a half day tour.
Food is available for purchase in the nearby stalls.
Camera can be taken inside.
Shimla airport is the nearest to the temple.