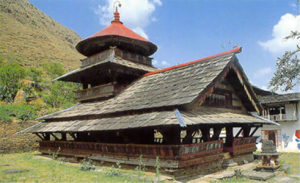 Behna-Mahadev Temple is one of the prominent religious sites of the Kangra region in Himachal Pradesh. Behna Mahadev Temple boasts of intricate architectural patterns both in its interior as well as exterior. The major attraction of this temple is the ancient brass mask which is used to cover the head of Lord Shiva. Reaching the temple is not much of ado and that a visit to this temple is quite mandatory for the Hindu devotees and visitors. Touted as one of the biggest gable-topped temples in the Satluj valley, the architecture of this temple is surely going to amaze you. View the beautiful mandapa and marvel at the beautiful pillars that hold up the steep roof, this sight is one you will surely remember.
Rising over the sanctuary is an open construction of two superimposed balconies; the upper balcony is provided with a timber-tiled conical roof and a metallic pot like finial. There are elaborate carvings on the cedar balconies and the internal columns. Window recesses flanking the sanctuary doorway have friezes of animals and stylized foliation.
Leaning against the right are the 8th-9th century stone sculptures of Vishnu and Lakshmi. A collection of the brass mask of the God Shiva is housed in the sanctuary; these possibly date from the 12th-13th century.