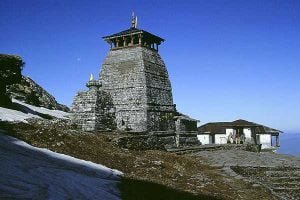 Ardhnarishwar Temple is a sacred temple of Hindus and is highly revered by the devotees. Situated in Mandi Himachal Pradesh, the temple is dedicated to Lord Shiva and his consort Parvati. The name "Ardhnarishwaer" means a person or a deity that is half man and half woman. The right half of the stone image in the temple represents Lord Shiva and the left half his consort Parvati.
Shiva has his typical knotted hair and wearing a garland of skulls, an entwined serpent, a musical instrument in one hand and a Damru or drum in the other. The divine consort Parvati is shown wearing a diadem, a pair of earrings and a ring on the nose. The icon is well executed from all standards.
There is a slab joined to the image on which the vehicles or Vahan of the deities- the bull and the lion, are artistically carved. The images of 'Bhairon' and Lord Hanuman are also there.
The temple consists of a cella, porch and a mandap. The carvings of the temple are of a high order. Ardhnari icons are rather rare in Northern India and the presence of this icon here is rather strange.
Attractions of the Ardhnarishwar Temple :
The image of Ardhnarishwar or Lord Shiva is depicted In the temple in which the right portion of the sculpture is of Shiva and the left portion is of Parvati. A small piece of stone that is connected with this unique sculpture has depictions of sacred animals. These animals, in fact, illustrate the "Vahanas" or vehicles of these deities. Bull is shown as a carrier of Shiva while the lion is the vahana of Parvati. Sculptures of other deities are also present in the temple premises. Hanuman and Bhairon are among the other gods that are worshipped by the devotees.
The sculpture of Shiva in Ardhnarishwar Temple is adorned with beautiful garlands and a snake that clings to his body. He is shown carrying the famous "Damru" or a drum in his hand. His consort Parvati is embellished with jewelry like nose ring and earrings. The other architectural structures that are present in the temple include a mandap, a porch, and a cella. The carvings on the walls are beautiful. The archeological Survey of India has declared it a protected site.
The temple is of immense religious significance to Hindus for whom both the deities are considered highly sacred. The spectacular temple Architecture is highly admirable.